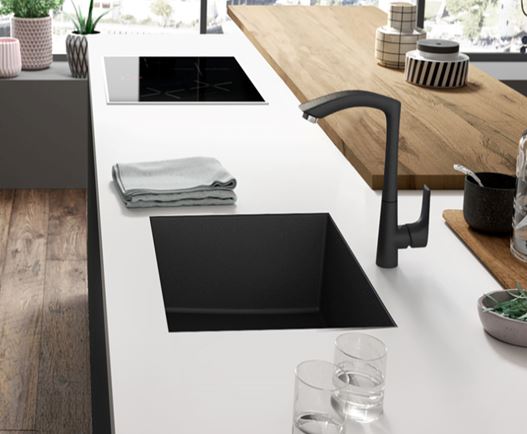 Engineered Sink and Bowl
ü Based on Quartz material and polyester resin
ü
Brand
:
SchemaR
Engineered Sink and Bowl
ü
Technical license from Korea.
ü
Manufacturing from China
ü Hygienic and strong strength and hardness
Description
ü Schemar Engineered Sink & Bowl is made 95% Quartz and 5% polyester resin, is often used as kitchen and bathroom sink and bowls.
ü
Its main features - Easy to clean,
easy for maintenance – would make it more compatible with countertops and its
elegant design would meet customers' high expectations.
  • Strong strength and hardness
  • Easy for maintenance
  • Safe food contact
  • Excellent fire resistance and hygienic and chemical resistance
ü
Colors :  Pure White, White, Black including metallic chips
  • ISO-9001
  • FDA (USA), CUPC (USA & CANADA)
  • CE (EU), ACT (EU)
ü
Product Line up
 (unit : mm)
​
Group

NO

Model

Width

Length

Depth

Sink

1

AES 900

900

520

205

2

AES 860

860

490

220

3

AES 815

815

495

205

4

AES 750

750

520

205

5

AES 860D

860

485

205

6

AES 735

735

465

205

7

AES 810

813

457

254

8

AES 575

575

445

205

9

AES 760

762

457

254

10

AES 650

650

480

205

11

AES 840

840

500

200

12

AES 550

550

480

205

Vanity Bowl

1

AWB 400

400

400

170

2

AWB 480

480

480

130

3

AWB 6045

600

450

160

4

AWB 4645

460

450

170

5

AWB 6040

600

400

145

6

AWB 7040

700

400

145

7

AWB 7050

700

500

160

8

AWB 8045

800

450

160